Tips for a successful party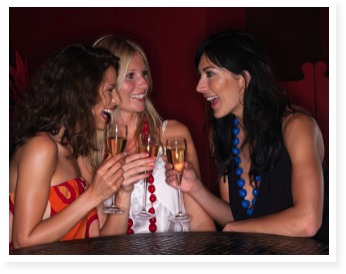 We want you to sit back, relax and enjoy your night so you shouldn't feel the need to do too much for your girl's night. All you really need to do is invite your guests, lay out a few snacks or ask everyone to bring a plate and we will do the rest.

But if you want to go all out for your girls night here are a few ideas to help your party go off!


Consider a theme for your party
Cocktail party
– little black dresses, yummy canapés and sizzling margaritas. Make a list and ask everyone to bring a bottle of something different and have fun whipping up some delicious naughty cocktails. See our recipe list below for some inspiration. Just make sure you don't have an early start the next day!


Sunday session party
– a nice relaxing Sunday afternoon with the girls, ask everyone to bring a plate and a bottle and settle in for a great time.


High tea
– tea, sandwiches, cakes and sex toys. Sounds good to us.


Pyjama party
– get comfy and channel the days of the good old sleepover.


Wine and Chocolate party
– because we love both and who needs a reason!


Sex and the City party
– whip up the Cosmopolitans, get out your best heels and come ready to party and share some secrets!
Food

Have some fun with your party food. How about serving up some provocative food? Sausage and meatballs, hot dogs, naughty cupcakes. Ask all your friends to bring along something naughty and get your April Nites consultant to judge the best idea! We will even give a prize to the winner!


Fun Stuff

You may want to add a few fun touches to get everyone in the party spirit! Why not make some naughty ice with our Pecker Ice Cube Trays or serve your drinks with our fun penis straws. Having a birthday cake? Why not pick up some Pecker Candles? All of these and more are available from our
online store
Get your goodies for free… Take advantage of your Hostess rewards! Pick your favourite product and work out how you can get it absolutely FREE!
You earn 10% to spend on everything you sell so why wait for your party to start. Think one step ahead, here are a few tips to help you maximise your Hostess Rewards.
Leave a catalogue and some order forms in the lunch room at work.
• Put a post out on facebook and send your friends a pdf copy of the catalogue. Remember they do not need to be local to place an order we can send orders to anywhere in Australia.
• Do you have a local hairdresser or beauty salon where you are a regular? If so drop off a catalogue.
• Make sure all those who can't make it get a catalogue and give them a cut off date for orders.
• Follow up with those who you have given a catalogue to. Tell them what date their order needs to be in by.
• AFRO – Acquaintances, Friends, Relatives and Other… Have you missed anyone out?

How to boost your party sales
Ask everyone you know to bring a friend who you haven't met before.
• Invite double the amount of people that you would like to show up on the night as you will get last minute cancellations.
Don't forget to give catalogues to those who did not show up on the night.

Don't miss out on your FREE gift. To qualify for your free gift we need just two confirmed party bookings. See what the Hostess Rewards are for this month.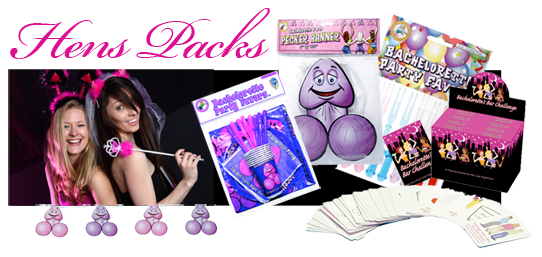 $48.00
($53.80 worth of products)
Book a party with us and get another $5.00 off
12ft Pecker Banner 12.95

Pk 10 Balloons 9.95

8 Piece Party Pack (includes 8 x decorated Hens cups, 8 x Penis Straws and Hens themed table covering) 22.95

Penis Ice Cube Tray 7.95
$92.00
($111.55 worth of products)
Book a party with us and get another $5.00 off
Bachelorette Bar Game 12.95

Dicky Crown and Veil 14.95

Pecker Candles 9.95

Penis Ice Cube Tray 7.95

12ft Pecker Banner 9.95

Pk 10 Balloons 9.95

8 Piece Party Pack (includes 8 x decorated Hens cups, 8 x Penis Straws and Hens themed table covering) 22.95

8 x Wine Charms 14.95

8 x Cocktail Picks 7.95
$147.00
($170.50 worth of products)

Why not send a classy e-invite card to your guests?

Choose what card you would like to send, fill in the e-mail addresses of your friends
(leave a space between each e-mail).
Write a custom greeting/invite message and click on send!
(Click on banner to see a bigger image of the cards)